http://www.youtube.com/watch?v=YRQp1bUJkBE
This certainly is a beautiful version of this hymn originally written with this title by Martin Luther from Psalm 46. Here are the verses that this song shares:
God is our refuge and strength, a very present help in trouble.
Psalms 46:1
Therefore will not we fear, though the earth be removed, and though the mountains be carried into the midst of the sea;
Psalms 46:2
Though the waters thereof roar and be troubled, though the mountains shake with the swelling thereof. Selah.
Psalms 46:3
There is a river, the streams whereof shall make glad the city of God, the holy place of the tabernacles of the most High.
Psalms 46:4
God is in the midst of her; she shall not be moved: God shall help her, and that right early.
Psalms 46:5
The heathen raged, the kingdoms were moved: he uttered his voice, the earth melted.
Psalms 46:6
The LORD of hosts is with us; the God of Jacob is our refuge. Selah.
Psalms 46:7
Come, behold the works of the LORD, what desolations he hath made in the earth.
Psalms 46:8
He maketh wars to cease unto the end of the earth; he breaketh the bow, and cutteth the spear in sunder; he burneth the chariot in the fire.
Psalms 46:9
Be still, and know that I am God: I will be exalted among the heathen, I will be exalted in the earth.
Psalms 46:10
The LORD of hosts is with us; the God of Jacob is our refuge. Selah.
Psalms 46:11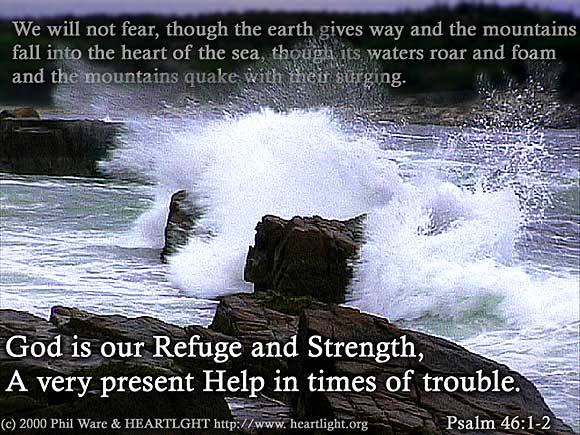 Thank You Father God, You are Our Refuge! You are Our Mighty Fortress! You are my Strength for this day and every day. My very present Help in times of trouble. You are in our midst and all we need to do is call out to You! We need not fear, as we draw near, draw near to us and wrap us in Your wings, our Shelter, Your embrace, Your love... out of the depths we cry out to You, O Lord, hear our cry and attend to our needs. Help us place our feet on the Everlasting Rock and stand! Help us to be still and unshakable. For we know humbly bowing our heads in surrender to Your Lordship, You are God, the great I AM! Praise You!
JOIN US
by
sharing
A
just keep it simple!
* This posts Sat. at 6pm to allow you to link and then rest and soak on Son
day,
visiting the other blogs during the week as God permits ...
remember that I have SOS as a PAGE in the tabs above so you can easily access the blogs for today's post during the week!
BE SURE to CHECK OUT
Alice's SURPRISE party
... or just
click here
and wish this
very special someone
a VERY HAPPY BIRTHDAY! ssshhhhhhh... it's a surprise but she has the party all set, her bd is SONday, let's make it the most memorable! We are so thankful to God for keeping her with us and saving her. That's why we are celebrating BIG TIME. I've chosen a special song I've dedicated to her at the
team blog
... and sent her this ecard (so why don't you send one too from
Dayspring
or
Crosscards
or your very own...) God will bless you! Spread the word about this invitation!
* if you don't see the Linky, please just add your title or link in the comments. Also if you're too busy to comment today, I'm always happy with just a quick REACTION check to know that you passed by; they're listed after labels right here below.