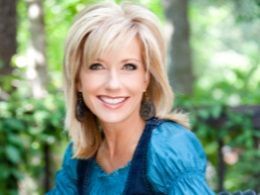 Isn't this just the sweetest face?
I delight so much in this M.O.M. and her gift of teaching.
Since I have not seen Beth Moore on Life Today lately, because Christine Caine has been doing a "teaching" series on Weds., I was thinking that I'd no longer be able to share from Beth Moore on Mondays like I have done. However, I recently went to Kindle for PC, and discovered the perfect book and 10 week study recently written by Beth and I have been using it since the New Year started. I also found many of her books at Kindle for PC were available for 0.00 ... and I downloaded like 12. So I will have plenty. I so enjoy listening to her teach and at One Place (dot) com, I have been so enjoying her study on Romans.
You if have a Kindle or Kindle for PC be sure to go check out if that great sale is still happening. (I think it is until Jan.10th) You can't beat 0 FREE ... Here are some of the books, I got:
"

Looking Up When Life is Looking Down"

*

(not on sale)

"Believing God Day by Day: Growing Your Faith All Year Long"

(love this for a daily devotion along with my study)

"Believing God"

"When Godly People Do Ungodly Things: Finding Authentic Restoration in the Age of Seduction"

"The Beloved Disciple"

"A Heart Like His: Intimate Reflections on the Life of David

"Jesus, the One and Only

"To Live Is Christ"

"Further Still"

"Things Pondered" ( I would have been delighted just with this one!!!) So many great finds at Amazon but this was my second favorite and the top one was a precious gift!

*

Well, actually they all are a GIFT! Hope they are still available and there were some others at 99c.

but my 10 week study was at regular price
But this is a total GIFT DELIGHT and much MOORE on Monday and
these will last me
all year
How I would love to be at this and share this one with you all.
BREATH!
Doesn't that sound so refreshing?
Here's the last WORD I've heard from Beth
So just want to be sure that you check back on Mondays for Moore!
I can't share my new study book until I officially announce
MY ONE WORD!
NOW

I have to tell you the truth that Life Today did have a broadcast on Jan. 1st, 2014 from Beth Moore, teaching on "Affliction", where

Beth explores the relationship between our past failures and our present afflictions, but I'm pretty sure this series was from last February. I still linked you to the current one at Life Today.
NO reason for comments so they are CLOSED