I have not decided for sure how I am going to continue this, since I've already gone through the Psalms in the first 40 days of this year - certainly not because I couldn't stand to go through the Psalms again and there most certainly are the best book of examples and prompts for PRAYERS, praise, laments, songs ... I just feel drawn to use my yearly devotional at this time on HEALING and the readings vary. I searched and thought about choosing another book in the Bible and following through as Angela does with Psalms ... but I just could not decide on which: Romans? Hebrews? Isaiah? Exodus? so I'm going with my devotional.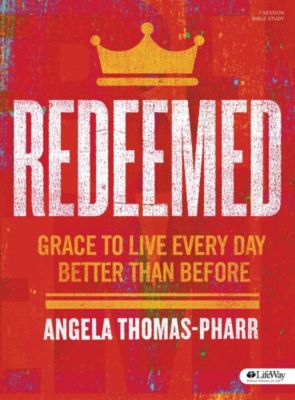 WEEK 1
"When Love Makes a Promise"
Day 1 - Day 5
(pages 15-31) in the Bible study book
Session 2
"Redeemed for a Life with God"
* RED
print from
Angela's "Redeemed..."
Day 2
Psalms 3-4
(
leaving this open in case something from study should be added here
)
My reading in my
HEALING
devotional
Proverbs 12:25
Today's RX: "Trust God and live today by faith,
moment by moment.
Let God worry about tomorrow."
"God, when I'm anxious and worried, help me to remember the promise You give in Jeremiah 29:11 - that You have plans to prosper me, not to harm me; plans for hope and a bright future. Thank You Lord for faithfully providing for me."
<><><>
back to
"Redeemed ..."
"Take a minute and jot down some of the ways you have felt
in over your spiritual head in the past.
Understanding the Bible? Theology? ...
How would you describe knowing God right now?
Is it:
__ He's becoming more clear. I'm learning to trust Him and see where God wants me to go!
__I'm in a God-fog. I truly want a real relationship, but I can't seem to find my way.
__I have no idea what you're talking about.
...
While we're taking a look inside,
what about your soul today?
__ filled with meaning and purpose for my life
__ being healed
__ wounded. hurting. lonely.
__ empty and bored, or empty and distressed"~
Angela Thomas-Pharr (p.21)
"Redeemed..."