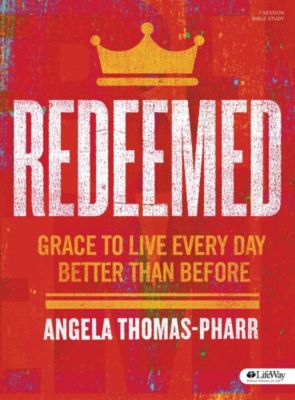 WEEK 2
"When Love Never Fails"
Day 6 - Day 12
(pages 34-65) in the Bible study book
Session 2 "Redeemed for a Life with God"
for next Session 3
"Redeemed for the Praise of His Glory"
*RED
print from
Angela's "Redeemed..."
Day 6
"Losing Paradise"
(p.34-39)
Psalms 13-15
Angela's heart desire for us in this study:
To know more about what we believe - to know more about being redeemed

To become better image-bearers than we've ever been - to live everyday lives that are actually being redeemed
much is covered on the "

garden

" paradise, disobedience and then
we are asked to consider our own relationship with God
which I'll be doing today like every Friday
<><><>
My reading in my
HEALING
devotional
Mark 8:23-25
" Lord, it's always in hindsight that I'm able to understand how You've worked in my life. Fill me with Your Spirit today that I may trust Your ways in the here and now, knowing You are with me wherever I go."
What do you think, should I continue like this or stick just to Angela's book?
Weigh in on this in the comments, please.
<><><>
Not related directly to this study, however it may be, and kinda related to the FaithGateway OBS of "You are Free" (book and study by Rebekah Lyons) and directly related to "Your Daily Prayer" which I make mine when I receive them from iBelieve (dot) com in my emails, especially when they apply to me and my own life or those I know ... so the one I received yesterday was exactly that. I am not sure if I have other publicly shared this on my blog (as Rebekah has in her book or I heard her share),but there have been times in my life that I experienced panic attacks; and as most, did not even know what it was, thinking that I was having a heart attack or something like that ... I do not know why this prayer and article along with a You Version Bible Reading plan, surfaced at this time. yet I do trust that God has a reason (I added one of the songs on Weds.) ...
... and today I am adding another song from
Labyrinth
because it's a well loved Psalm which shows up on Day 9 of "Redeemed ..." plus the Daily Prayer to overcome panic (or other) attacks (with a few personal adjustments)
"...There's a prayer I pray on the mornings after an intense panic attack, and I want to share this prayer with you today, as an example of how you might trust in God to be your strength and help you overcome. {

me too

}