Part 1 was on last Sunday
Part 2
This
video
was carefully chosen because it speaks volumes for my answer... to this very important question:
What does being a Christian mean?
Before I start to give you my personal answer, I'd like to share with you my first response that I left in the comments of Debbie's original beginning of this question at
"THE WAY WE WERE" back on Oct. 18th and the 21st when she gave an excellent, anointed, and empowered response to:
WHAT DOES BEING A CHRISTIAN MEAN?
My initial comment was this:
Hopefully, I can answer this without speaking of any denominations but living in the country that I now reside more than USA, I find myself qualifying what this means to me often.
Rather than specify a denomination to many when asked, I answer, "I'm a Christian" but I believe I have done this at least the last 20 years, so I refer to that rather than any church or denomination. I have changed this (church denomination) throughout my life from one to another to the one I have been since the late 80s. Yet my foundational truths or beliefs probably have not changed but deepened and expanded.
My most simple answer, when I respond is,
one who follows Christ
.
Then I take this opportunity to share who Jesus Christ is to me personally or even in the Bible.
I do believe being a Christian is an honor, privilege and a great calling with responsibility to love as Jesus does. In order to do this, one needs to know who Jesus is and of course, Jesus says we come to the Father through Him, so we must also know the Father and all 'they' encompass. We need this to follow those beliefs. We need the power of His Holy Spirit to witness and understand better what the Bible says. I strongly believe being a Christian takes more than saying you are or what church you go to, it means DOING what Jesus teaches

(and what His Word says... not a legalistic church, or any specific preacher, priest, pastor, speaker, denomination, etc. but God's Word).
By now, I should probably have written my own post and linked because of the length. Being married to someone, who is not a follower of Jesus Christ, makes me ever more aware and ready to know, love and serve Jesus so he or others may come to know the One, in whom I place my life, my everything in His hands and trust in Him and His Word as infallible. So I need to know His Word and Him and how this changes or impacts me daily as I try to grow closer!
The reason I start with sharing my immediate response is so that you can understand why I chose to continue asking people to share their answer. I gave you time to think about this before answering. At the time this came up, I had done a series of "blogs" on FOLLOW HIM. So this was the next logical step to share... what does it mean to follow Him? it's more than the song I shared... though it's a good start...
Since the word "Christian" comes from the Greek Word "christianos" meaning "follower of Christ", this was pretty basic.
However, the term is only used 3 times in the New Testament (the second part of the Bible starting with the life of Jesus Christ) in the book of Acts (the beginnings of the church). [Wikipedia can give you a complete definition and study of the term Christian HERE].
Acts 11:26, "and when he had found him, he brought him to Antioch. And it came about that for an entire year they met with the church, and taught considerable numbers; and the disciples were first called Christians in Antioch."
Acts 26:28, "And Agrippa replied to Paul, "In a short time you will persuade me to become a Christian."
1 Peter 4:16,"but if anyone suffers as a Christian, let him not feel ashamed, but in that name let him glorify God."
But when I did a Bible search, I found 41 occurrences.
The reason I want to share this is so we are personally telling what being a Christian means, not how to become a Christian (there is a difference to me). Although becoming a Christian is intertwined with being a Christian, of course. I could have written this without any scripture (
verses from the
Bible) but because each one is the Living Word of God, it confirms for me what I believe,
yet I think you could read this, without the
red
verses, and you would still see what being a Christian means to me.
This is important because being a "follower" of Christ means that we need to know and accept who Jesus Christ is. One of the ways to come to know who He is, involves reading and studying about Him. Yet this is not enough, unless and until you accept and believe what is written about Him.
Everything necessary for being and behaving as a Christian comes through Jesus Christ, who lives within us.
"Christ lives in me," Paul explained, "and the life I now live in the flesh I live by faith in the Son of God, who loved me, and delivered Himself up for me"
Galatians 2:20
Being a Christian means you have expressed faith in who He is, and it means you are putting action behind your faith. It's not enough to just believe, you must express your belief in Him, your love for Him, by doing the things He told you to do. Neither is it good enough to just do the things Jesus did; you must believe He is the Son of God who gave His life for you.
Following Christ brings a dramatic change of life and purpose. It is deciding that you want and actually need to have a relationship with Him. It's like getting to know a friend, it's all about establishing a relationship. Jesus Christ has already done His part and now you need to choose to be His friend and get to know Him. But your belief is so much more. He will change you from the inside out, if you allow Him and His Word to take effect and impact you.
"Therefore, if anyone is in Christ, he is a new creation. The old has passed away; behold, the new has come." 2 Corinthians 5:17
A Christian believes that Jesus Christ is the Son of God who assumed the form of a man, gave Himself as a perfect sacrifice for our wrongdoings (known as sin),
"But God demonstrates His own love for us in this: While we were still sinners, Christ died for us."

Romans 5:8
...then He rose from the dead to defeat death for all of us. This is the core of our belief.
We were therefore buried with Him through baptism into death in order that, just as Christ was raised from the dead through the glory of the Father, we too may live a new life." Romans 6:4
So this is it, in a simple capsule, but also it's very deep and profound to accept and understand.
"For God so loved the world, that He gave His only begotten Son, that whoever believes in Him should not perish, but have eternal life.
For God did not send His Son into the world to condemn the world, but to save the world through Him.
"
John 3:16-17
As one begins to put this together, you want to share so much, for fear of leaving out a key point or some essential part but you also do not want to overwhelm someone. Yet forming these basic ideas helps to lay the groundwork of what I believe.
What you believe is of ultimate importance and an eternal decision of choice!
"For I am convinced that neither death nor life, neither angels nor demons, neither the present nor the future, nor any powers,
neither height nor depth, nor anything else in all creation, will be able to separate us from the love of God that is in Christ Jesus our Lord."
Romans 8:38-39
Having a faith in Jesus does not make one a follower of Christ; it simply makes you a believer (where I am in my daily readings Luke at the time I'm writing)
"If anyone wishes to come after Me, let him deny himself, and take up his cross daily and follow Me."
Luke 9:23
Being a "follower" involves a bigger commitment. It starts with a decision. It is not about a church. It is not about a religion. It truly is accepting the relationship that only Jesus Christ can fill in your life. It's taking the time to get to know Him and build a relationship with Him. Choosing to do just as He asked the first people that joined Him to become disciples.
Then Jesus said to his disciples,
"If anyone would come after me, he must deny himself and take up his cross and follow me.
(NIV)
Then Jesus said to his disciples,
"If any of you wants to be my follower, you must turn from your selfish ways, take up your cross, and follow me.
(NLT)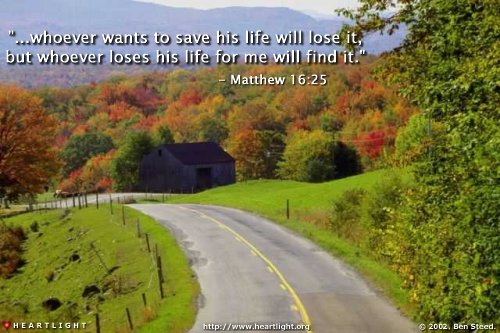 (I will continue this with "What does being a Christian mean? or how do I follow Jesus Christ?)
in Part 3
since this is already a long blog... this seems like a good place to break.
Jesus desires for us to follow Him today and spread His Good News.
A really great post to confirm the above beliefs is written when I entered (or started writing) "My Secret Garden"... if you missed this series, please go back and bookmark them (e
specially Secret Garden #2)
and take the time to return to the key ones in the beginning of the:
* if you'd like to respond with your own blog on this question, you can LINK here.