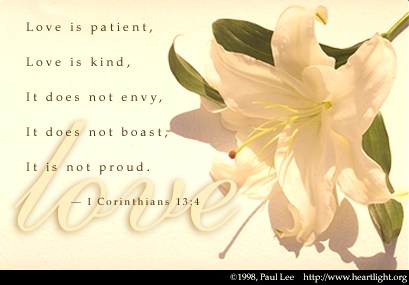 [
source
]
JJ Heller
"...I will love you for you

Not for what you have done or what you will become

I will love you for you

I will give you the love, the love that you never knew..."
http://www.youtube.com/watch?v=EqWf-XehllA
ONLY LOVE REMAINS
http://www.youtube.com/watch?v=P3BDYBGhSgI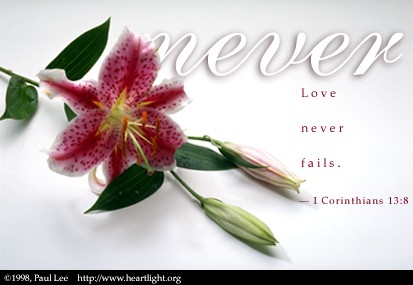 [source]
Focusing on God's love still but this week, tomorrow (Mon.) marks our anniversary, which would be 35 years, although we are not together and our love is not a 1 Corinthians 13 love... had it been, we still may be... yet in his own way and me in mine, we love each other and I believe that God can make that love new (if that is His will) love can make you new and only love remains. So even though we are separated, God can still work LOVE in each of us for His purpose and plan.
I (we) may have failed in my(our) marriage but I still believe LOVE NEVER FAILS... thank You, God!
For God's love is all encompassing and embraces our differences, and meets us where we are. I only pray that God softens hearts to know Him and accept His love as only God can change hearts and show us what LOVE REALLY means. May God carve on your heart the words above of HIS LOVE... unconditional and given to all who humbly come to Him. He's WAITing...
SOAKING On SON DAY
JOIN US
by
* this posts Sat. at 6pm to allow you to link and then rest and soak on Son
day,
visiting the other blogs during the week as God permits... I add my earlier post when I can to be sure it's working...
If you did/do FRI. Feature Faith Focus, be sure to check the Linky and visit all. These memes are small enough to be able to take time to acknowledge each one, please.
If you don't see the
Linky,
please just add your title or link in the comments.