*This is NOT an official book review of this yet ... this is a personal reason for me to add this book to my collection of

"Treasures"

from my own story and this historical date in my own life ... kinda like a preview for the review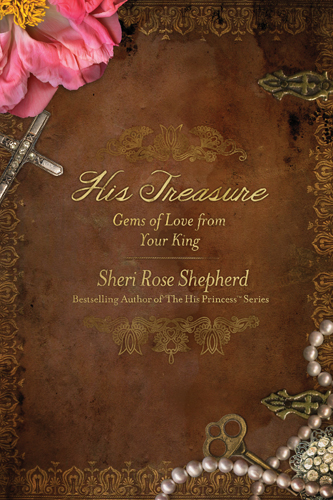 Gems of Love from Your King
by
Sheri Rose Shepherd
I requested or signed up with Tyndale Blog Network (because many of the books I love are published by them, Thomas P. Nelson and Bethany House Publishers). I never even considered signing up for another blogger book review program after BookSneeze accepted me, since I was so grateful that they did and loyal to them as they have been so good to me. But I LOVE TO READ and Christian Books are my favorite. So, I followed a Tyndale Blog button and found that this book was one of their choices.
Well, if you know me, you know that I love Sheri Rose Shepherd and many of her books, her blog, her life coaching, etc. I have never been disappointed with anything I have read or heard by Sheri Rose!
She is the BEST in my book! Yet I saw that her book was part of a "blog tour" (which I've seen but know nothing about them) so I applied anyways with the hope that I'd be accepted and be able to do whatever a "blog tour" is, just so I could have this new book. Meanwhile, I checked it out at Amazon (Kindle edition) as I often do, add to my wish list when I discovered that it did not cost too much so ... this is an unsolicited (non blogger book) review - a first for me (I'm sure I will be doing a real review at some time) just because I knew this one was meant for me ... I had to get it (
you ask why?
I knew you would want to know-lol)! When I read this in the book description, I knew ...
"

Our heavenly father's deep desire is to be close to you. On the days when it feels like a struggle to connect your heart to His, turn to

His Treasure

—a beautiful collection of letters from your King, a pattern of precious gems reflecting His love.





Discover the riches you have in Christ, breathe in the Father's never-ending love for you, and rejoice in His treasures of truth as you experience a whole new encounter with the One who cherishes you most.

"


HERE'S
WHY
Last year, in 2013, on this date, our home in MN had a catastrophic fire totaling it all ... it was considered a total loss. I received a long distance phone call telling me nothing more than "it's gone, it's all gone"! This has been our home since 1979.
Many of my personal family "treasures" were in that house ... many were treasures from my childhood; my mom and dad and our home as children; my brother (all who have left this earth for their heavenly treasure) so these treasures were my memories of them, my past, my childhood, connections with them that I held dear and treasured. They were not "gems" or riches like the ones penned by my dear sister in Christ, Sheri Rose Shepherd.
Beyond my personal treasures, my spouse had enormous collections, as I also had of books! He also lost many cultural artifacts and an enormous collection of videos that were educational and priceless. All were being cataloged in our home computer, but that was gone too! So no record of 100s of items that he collected. I had what I considered my "treasures" in the attic, which was directly right above the main fire, and served only as kindle to feed this fire. Gone. Irreplaceable. Treasures.
Yes, I am beyond grateful that lives were saved and the fire was contained! I shared a

MIRACLE

of God protecting an entire closet of mine, yet the truth is (since I went home to help account for the losses for our insurance, enumerating the items) even what I consider valuable and salvageable just because they hold memories for me, much was tainted by soot that even crept into boxes, layering the top level with their black mark ... washable (maybe), but the fire smell is in much and we were told not to bring anything that smelled smokey back into our new refinished house. You see, it is no longer my home. It was a beautiful new house, but not the one I left as my home however.
Of course, I know what God's Word says about our "treasures", however, the heart (if it's truthful) still desires the 'stuff' that we cling to in our flesh ... and it hurts when we loose. The treasures we've spent years storing up ... treasures stored up on this earth have a great deal of meaning, yet God desires that we realign and refocus our thinking to what really matters.
The hard part is ... that my dear spouse lost something more valuable than all our material and personal losses as a result of this (I believe) ... the impact was too great for someone (anyone) who has/had worked all of their life and even after retirement to improve and make our house, our home and all that he could personally add to make his mark on and in this place ... the end result and the greatest loss, is that he is now in the beginning stages of Alzheimer. His mind, one of God's greatest treasure that will slowly (I hope and pray slowly) be forgetting all the invaluable knowledge and memories that he has stored there (including me). I can't think of anything more painful and tragic to loose in a fire or because of a fire.
This is a TREASURE that I will never be able to restore, only by God's aMazing Grace, will we be able to redeem some of the collectibles but a person's mind, is almost as valuable as their heart, one that I will treasure far beyond today and tomorrow. Beyond this, I continue to pray that my spouse will acknowledge his need for Jesus as his personal Lord and Savior. He believes in God yet we know that no one comes to the Father except through His Son, Jesus Christ. As I read the pages of "His Treasure", I could not help but think on this ... the "Gems of Love from My King" are even more irreplaceable ... yet even He knows the pain of a loss like this. I hope that I can hold on tightly to "each gem" in place of the lost "gems" with a new strength and constant reminder from Him that He loves me and He loves my dear husband even more than I do! So I believe He will complete His promises as regards the greatest treasure given ...His love!!!
"How you feel about yourself
will never change God's unconditional love
for you . . . you are His Treasure."
How many times I have relied on this Truth!
Especially when I did not feel lovable.
Last year (Oct. 2012) before this occurred, I did a small series called "Taking Back My Treasures" from a teaching that Beth Moore was doing then ... little did I know how impactful and important her words and my own would be. Treasure your loved ones and make them your treasure then store up the right kind of treasures and learn to let go of the stuff. Ya' can't take any of it with ya'.
MORE COMING ON
"HIS TREASURE"
but I'll have to squeeze it in between my 31 days and my
GIVING THANKS
for all of
NOVEMBER
I'd love you to join me!
The book review of
"His Treasure..."
by
Sheri Rose Shepherd
will be following
with a
surprise giveaway
11/11/13
official date