Join
SUNFLOWER FAITH
in "
31 Days of PRAISE
" (also a
book by Ruth Myers
that she's sharing daily)
DAY 31. Psalm 104:24 ~ WISDOM
PRAISE YOU GOD! YOU ARE WISDOM!
Praise the LORD, my soul.
LORD my God, You are very great;
You are clothed with splendor and majesty...
...How many are Your works, LORD!
In wisdom You made them all;
the earth is full of your creatures...
...May the glory of the LORD endure forever;
may the LORD rejoice in his works—
...I will sing to the LORD all my life;
I will sing praise to my God as long as I live.
May my meditation be pleasing to Him,
as I rejoice in the LORD...
...Praise the LORD, my soul.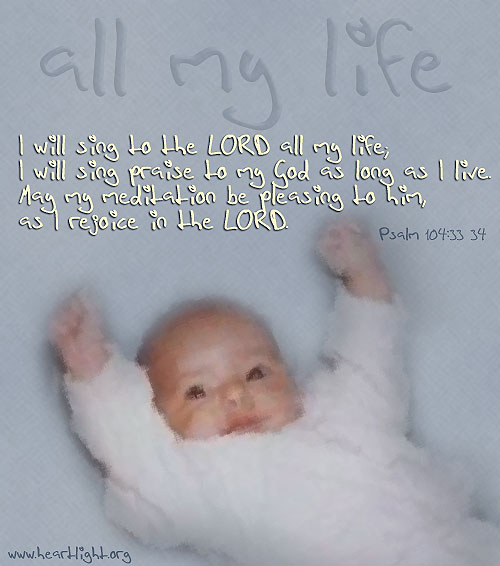 YOU
I just heard on a news clip that babies laugh or giggle 300 times a day and as we age we laugh less and less... So I will laugh,
Innocent, Pure, reaching up to You, my Lord and Savior... yeah, just like being born again; time to start with a clean slate, a willing heart for 2011 "BREAKING FREE" with Your Wisdom; no more obstacles, hindrances, unhealthy choices... I'm YOURS!
One thing I ask of the LORD, this is what I seek:
that I may dwell in the house of the LORD all the days of my life,
to gaze upon the beauty of the LORD and to seek Him in his temple.
If any of you lacks wisdom, he should ask God,
who gives generously to all without finding fault,
and it will be given to him.
The above video is just the musical intro to the song but I chose it for the Bible verses.
To hear the full song with the lyrics below you can go here:
Convinced of my deception
I've always been a fool
I fear this love reaction
Just like you said I would

A rose could never lie
About the love it brings
And I could never promise
To be any of those things

[Chorus:]

If I was not so weak
If I was not so cold
If I was not so scared of being broken
Growing old
I would be...
I would be...
I would be...

Blessed are the shallow
Depth they'll never find
Seemed to be some comfort
In rooms I try to hide

Exposed beyond the shadows
You take the cup from me
Your dirt removes my blindness
Your pain becomes my peace

[Chorus]

...F
rail
***
I NEED YOU
O LORD
I AM FRAIL
YOU ARE NOT
I MAY BE FOOLISH
BUT YOU ARE MY WISDOM
YOUR WORD FILLS ME WITH MORE
OF YOUR WISDOM and WAY
I
SEEK
YOU EACH DAY
and
YOUR
WISDOM
through
YOUR
GRACE!
31 DAYS OF PRAISE
ARE
NEVER
ENOUGH
for all
YOU ARE
TO ME
I WILL GIVE
YOU
PRAISE
HELP ME
TO
COME
and
PRAISE
YOU
even when
I face the valleys or the storms
not just for the good days but in
ALL DAYS
I WILL PRAISE YOU
GOD
God of WISDOM
go with us
into
2011
My newest discovered blog friend, Valerie from Composition-Life, today has shared for her final 365th post of "Intelligent Expression" Project, the perfect
expression of scripture, photo and quote to go with my last praise of GOD'S WISDOM... Thank you Valerie for such a gift of expression of God's beauty and wisdom... Each work is a unique way of worship and wonder.
Please take the time to visit her and be blessed!
* HERE is EACH DAY of the "31 PRAISES" in DECEMBER 2010 for more PRAISE! (or you can always check the labels under "31 days of praise")