* you may skip Natalie's song, though it's good and will bless you,
if you came for any meme,
Thankful Thursday,

Sweet P's,

Fearless Friday
or you can hit play and continue on... my prayer is long enough in blue way down this post




[added this on my blog separately when I posted this post so I had to add it here so I would not loose it when I removed it from the top because the song held me together through this storm, reminding me to PRAISE Him just like "PRAISE HIM IN THE STORM" from Casting Crown]
Daily
I give THANKS to God
for HIS DIVINE PROTECTION and
that I am not living in
the southern states
of
Veracruz,
Oaxaca,
or
Chiapas,
Mexico.
No matter,
Hurricane Karl did pass over most of the country
and regained its power
on the west side where I am
but further north and across the Sea of Cortez
It's hurricane season until November.
Any of these videos do not compare with the daily news
here
and
it has been almost a week
since this hurricane hit and this onslaught continues
the change in season
and
these tropical storms
are relentless
As far as I can tell the government or whoever
(I think they send their military)
hardly seem
able to
respond
to an
emergency quick enough.
[And we thought response to Katrina was bad].
If you get tired of political ads, these ads run all the time asking for people to help
Yet, sometimes all that's donated does not get there
(I heard terrible stories of this corruption also)
In fact, they can hardly get to many of these places,
roads washed out, bridges gone, huge rocks or mudslides
They take up collections to send the people
but many are still without.
Where are the people of God and compassion to rescue these many people?
MEXICO: Worshipers in Villahermosa praise God for what He has done
in the aftermath
of last year's floods.
[source: Samaritan's Purse]
BUT
SAMARITAN'S PURSE
International Relief
is here
RESPONDING!
THANK YOU
LORD
for
the
RESCUE
and
RELIEF
(click to see great photos)
for
HEARING
the cries
and
the praises
of
your
people
in these storms.
Please send MORE laborers!
Please PRAY for
the people
living
in
MEXICO
and
those
helping in the
RESCUE
"Do not fear, for I am with you. Do not look anxiously about you, for I am your God.
I will strengthen you, surely I will help you. Surely I will uphold you with my righteous right hand"
Isaiah 41:10
(NASB)
Heavenly Father, You know how hard it is to see your children and families hurting and suffering because Your heart aches also just like mine as I watch. But You are more than enough. You are with me. You are with many of them. You hope as I do that they will come running to You. They have lost all of the little they had. Some have even lost loved ones. They are hungry and thirsty and without a home or even dry land. There are snakes, alligators, so many other dangerous diseases and more. Yet I come to You and ask for Your Divine intervention and Protection. You can, if You will, stop the downpour and decrease the flooding. You can stop the mudslides and You can move the rocks. You are Our Rock. You are Our Defender. Rescue us and have mercy on these people. I believe You are more powerful than any natural disaster.
You are the Creator of all! Your Word tells me that Your love is unfailing and nothing can separate us from You. You created the earth and all that is in it. You have given us so many blessings and beauty in creation. You fill the world with beauty, bounty and no end to wonders.
I ask You to save Your people from nature's fury, from storm, and flood and the ensuing landslides. Bring Comfort to the many throughout this ravaged torn country whose lands have been obliterated by the flood waters, their crops and livestocks, even their homes. They have nothing to return to and no place to lay their heads. Many are stranded. Help those waters go down and save us from the destructive power of this storm. You, O Lord have the power to calm the storms that threaten so many and command all the elements of nature to obey You. Steady the sun to radiate dry warmth. Place a hedge of protection from the illnesses and diseases.
I cry out to You, Almighty Father to forgive us and have mercy on the many who do not yet know You.
I praise You O Most Holy Father, for keeping me safe, alone in this country with 4 dogs to care for... give me wisdom and discernment in all times. I praise You in the good and in the bad. I praise You and I will not fear. Uphold Your righteous right hand, I beg You to save Your people.
I cannot believe that You would bring me here or any outreaches and Christian missionaries to show people Jesus, and show them His way, if You were going to allow continual destruction without a chance for repentance and salvation. You have opened doors for many to be ministered to and saved.
Give courage to those who are in the area and those who are rescuing them. Give strength to all survivors. Give peace to everyone. May each one draw closer to You and call out to You in there time of need. Keep them from anger, bitterness, hopelessness, despair, and all that the enemy was trying to release here. Pour out Your Holy Spirit to bring peace, comfort, hope, faith, restoration, strength, and Your Power. Send us a rainbow of HOPE!
Grant us humility to repent of our negligence in tending Your creation and give us the will to serve You in everything more faithfully. I know You are a loving Father that holds all creation in this world in Your hand. I thank You for holding me so tenderly in Your hand. For Your loving protection through each 'storm' !
I shout and sing the words over and over again from Casting Crown's "Praise You in the storm" when I hear the thunder, lightening and torrential rains, knowing my help comes from the Lord, Mexico's help comes from the Lord! "I will lift my hands for You are who You are, no matter where I am and every tear I've cried You hold in Your hand, You never left my side and though my heart is torn, I will praise You in this storm"... Come dear Lord, and deliver Mexico from the raging pain and storms all around. O Deliverer, save us in Jesus' precious Name.
TODAY IS

THANKFUL THURSDAY

, BE SURE TO THANK HIM FOR ALL HIS BENEFITS and
THE GREAT HONOR IT IS TO SERVE HIM AS KING, and BE BLESSED BY HIS LOVE and PROTECTION AS HE REIGNS OVER YOUR HOME and IN YOUR HEART! THANK HIM FOR WHO HE IS TO YOU, then share it over with the other

THANKFUL THURSDAY

participants
with Iris
Fearless Friday
and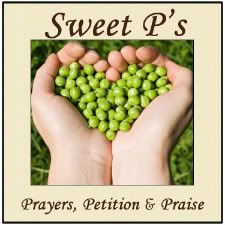 Sweet P's
PRAYER, PRAISE,
and
our
PETITIONS
* if anyone could link me up to the appropriate memes each day, I will appreciate it...thanks!